The Vitamix Quiet One blender is a powerful appliance intended only for commercial use. One of the biggest draws for many is the sound dampening shell, which reduces the overall loudness considerably. This feature combined with the extreme performance and other functionality make it a very versatile choice.
Of course there are other alternatives, so the real question is whether this is the correct model for your needs. According to the Vitamix company, they say it's trusted by coffee shops all over the world because of its lower noise production. Specifically, it is around the decibel rating of a nearby conversation.
I'll go through various important points in this article to review the different features. Hopefully this will help you be more informed about the blender. I'll start with the functionality first and then cover other aspects.
Control Functionality
If you like to have a lot of control over the blending process, you'll be happy to know that there are 34 settings and 6 optimized modes to choose from. This gives you a lot of flexibility and allows the blender to handle a really nice amount of tasks automatically. It's also capable of an astonishing 93 manual variable speeds, which should cover many different ingredients that you may throw at it. For finer control there are two pulse buttons if you need to do some lighter blending work.
The 6 preset mode buttons that are preprogrammed in are: smoothie/general purpose, double smoothie, frozen coffee and juices, ice cream drinks, double and hard-to-blend ice cream drinks, and thick hard-to-blend smoothies. These modes run automatic cycles for a specified time to ensure you get consistent blending results. All you have to do is add your ingredients and push the button for whichever mode you want to run. They range from 18 to 28 seconds for a complete cycle. It's a real convenient feature if you're running around doing other things. It's definitely nice being able to let the blender handle the tasks by itself to free you up.
You do have the ability to reprogram the stored modes if you need to customize them. There are 34 different settings to choose from allowing you to pick out the ones that fit best for your own recipes. So, at least you aren't stuck with a limited amount of blending modes. Watch the video below to see a short demo of the blender in action!
Motor
This is a high-end blender so of course it has a high-end motor installed inside the base. The motor has a rating of 3 peak horsepower and it runs on 15 amps. This provides enough performance to tear apart ingredients and pulverize ice into a silky smooth texture.
Update: Today's Deal: You won't want to leave the site without viewing this Vitamix Quiet One Amazon offer first!
Running the machine for an extended period of time will generate quite a bit of heat because of the large motor. The control panel can tell you whether the motor is normal, warm, or hot. There's also a smart automatic shut off safety feature to help protect internal components.
Advance Container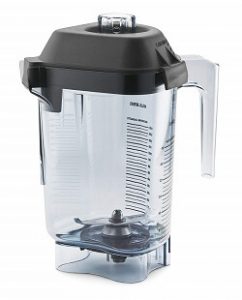 As I previously mentioned, the outer casing reduces noise considerably and is a major appealing feature of the blender. The sound enclosure is removable in the event you need to clean it separately or for whatever other reason you may have.
In addition, the entire shell is secured using magnets to ensure it is sealed tightly and completely. Be aware that the Vitamix Quiet One blender comes with a three-sided 48oz container and that a larger 64oz container will not fit inside the enclosure.
Summary
34 settings, 6 preset modes
High/low pulse buttons
93 variable speeds
48oz blender container
Blending decibel level of a nearby conversation
For commercial use
Weight: 20 lbs
Dimensions: 18.0″ x 8.5″ x 10.7″
3-year warranty on motor base parts
One-year warranty on labor
Made in the USA with a minimum of 70% USA content
Model: Vitamix 36019 36019-1 Vita-Mix Quiet One Blender
Conclusion
I definitely think the Vitamix Quiet One blender seems to offer a lot of unique functionality and high-performance. The blender is made for commercial use and the customizable presets allow you to tailor the machine for your own requirements. If you love doing things manually, there are 93 variable speeds to choose from. If you want to let the blender run cycles automatically, it can do that as well. The 34 settings give you the ability to handle a wide range of recipes via simple one button control. It provides a lot of convenience to be more efficient and plenty of power to handle tough ingredients or tasks.
Whether this model is right for you will come down to what you'll be using the blender for. Presumably, you're searching for a blender that's quiet and won't disturb other people around. There are other possible alternatives such as the Vitamix Blending Station or the Blendtec Stealth 795. I'd recommend considering how the blender will be used and decide on which features are the most important to you. Hopefully you'll end up with a clear choice that suits you!
Vitamix Quiet One Blender Deals
Click one of the links or pictures below to view the product for more details. After that, you'll be able to see the newest information and current prices. Be sure to add the blender to your shopping cart to see a final cost including any tax or offers available.
Newest Vitamix Quiet One Blender Offer
"As an Amazon Associate I earn from qualifying purchases. This does not affect the integrity of our content."