I think the Vitamix V1200 blender provides a lot of performance and versatility overall. There's a huge 2.2-HP motor, a manual control dial, a digital timer, among other common features. However, this model doesn't contain any automated presets directly on the machine. Don't worry though. You can pair the blender to your smartphone or tablet using Bluetooth. This is where you'll have access to a plethora of automated blending presets.
The main dilemma is whether this Vitamix model is the best fit for your needs and budget. There are several models available and I know that it can be overwhelming figuring out which blender is right for you. This is even truer when you have a blender that appears to be so similar to other models. I'll try to review what's new and unique to help you make an informed buying decision. I'll jump right into the wireless connectivity of the blender.
Smartphone App
There's an official mobile app called "Vitamix Perfect Blend" which can be downloaded for free on iOS and Android devices. This app syncs up with the Venturist V1200 and is used to wirelessly send presets and commands to the blender. It's also quite clever, because the blender is capable of displaying different commands based on which blender jar you're using. So, if you have a dry grains jar connected, it'll show presets for that specific jar. Likewise for the other smart containers as well. It definitely looks and feels modern having this type of functionality built-in.
The app has several presets that you can choose from. These presets will send automatic programmed modes to the machine and run a special cycle. The main benefit to this is that you get consistent results every time, since it runs the same length and gives the right amount of power. Having an app to control all of this can be a pro or con depending on your preference. The main drawback is that you'll always need to be using your smartphone or tablet in order to use this functionality. I'll embed a video that shows how the app works in detail so you have a bit more information and understanding of it all.
I'd say the best advantage to controlling things via the app is that it can be updated to add new features much more easily. You could have new functionality or other improvements with a simple app update, whereas the preset programs on older models are static and can never be changed. It's really going to come down to personal taste on how you feel about this modern feature.
Smart Containers
As I mentioned, the base of the Vitamix V1200 is capable of detecting which smart container is currently connected. The jars are specifically called "Self-Detect" versions, and that's what you want to look for when buying any as accessories. They'll automatically update the app's functions based on the size and type of jar being use. There are several varieties available including an: 8oz blending bowl, 20z blending cup, 48oz dry container, 48oz wet container, and 64oz wet container. An interesting fact, the wet jars have blades that create a vortex to suck ingredients down and the dry jars have blades that create a tornado to throw ingredients upwards.
It's important to note that these smart jars are different compared to the older containers from Vitamix. Even more importantly, the old jars can NOT be used with the new blender because the machine will not be able to "detect" them. They simply don't have the "smart" technology inside. However, the new jars can be used on previous models without any issues. I suppose you could purchase the new jars now to use with your current Vitamix and be future-proofed when you're ready to upgrade to a smart machine down the line.
Update March 16th 2023: Check Vitamix V1200 offer. Save some money off the $630 retail price by considering a certified renewed model.
It may be a slight downer for some people but the Vitamix company has been making big technological advancements in the past years on their blenders. They had to make a choice and apparently it seems like they felt it was best to make a fresh product line with unique features. It makes sense in order to push forward what the blenders are capable of and have a seamless experience. If you have older jars from a previous Vitamix it could feel like an annoyance.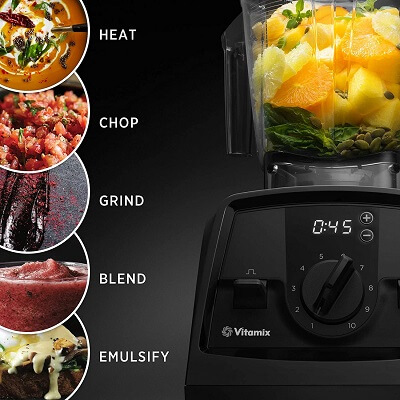 Performance
The Vitamix Venturist V1200 model comes equipped with the typically powerful 2.2-peak horsepower motor inside. This provides enough performance to crush raw ingredients for whole fruit juice or turn your favorite nuts into a smooth creamy homemade nut butter. Vitamix models are known for all of this and that's one of the reasons people love purchasing them. They're really good at outperforming other brands and giving you high-end results.
I think Vitamix is to blenders, as Kleenex is to tissue paper. Having this type of performance allows the machine to do the job of other kitchen appliances. The raw power inside will crush ice into snow, it can mix thick doughs, it'll double as a food processor, ice cream maker, hot soup maker, meat grinder, and more. Think of how nice it'd be to have one device on your kitchen counter without having to get multiple appliances out from underneath your cabinets.
Manual Features
There are manual controls located on the front of the base. Here you have access to a pulse switch, a variable 10-speed dial, a digital timer, and an on/off switch. You'll use the pulse feature when making recipes that don't require complete blending, something where you just want to chop the ingredients a bit.
The manual dial gives you full control over the blending process and allows you to fine-tune the blend exactly the way you want it. It's nice being able to have the modern advancements via the wireless app, while still retaining manual functionality for those that prefer it. It's really the best of both worlds in many ways.
What's In The Box?
When you buy a brand new Vitamix Venturist you'll receive a 64oz low-profile wet jar, a 20oz blending cup, and an 8oz blender bowl. You also get a cookbook titled "Simply Blending", a low-profile tamper, blade scraper, and tamper holder. Not a bad collection of items I must say. These will really allow you to start blending all sorts of recipes right away.
If you get a "renewed" blender it typically comes with just the 64oz container, 20oz blending cup, tamper, and cookbook. So when buying a renewed product you will miss out on the 8oz bowl, blade scraper, and tamper holder. But you'll also likely be saving a chunk of money off the retail price, so you have a few things to consider. You can always purchase the 8oz bowls at Amazon or similar store if you want them.
Overview
Motor: 2.2-peak HP
Variable 10-speed dial
Pulse function
Digital timer
Smart-Detect technology
Automatically knows which jar is in use
Bluetooth via "Vitamix Perfect Blend" app
17 Blender Preset Modes from the app
Over 500 recipes with step-by-step instructions from the app
64oz Smart Container, 20oz blending cup, 8oz blender bowl
Simply Blending Cookbook
Can sync with fitness apps through Google Fit for example
17-point Quality Inspection
10-Year Warranty (5-year on the renewed model)
Dimensions: 10.5 x 8 x 17 in
Cord length: 4 feet
Model: Vitamix Venturist 1200
Final Thoughts
It's obvious that the Vitamix Venturist 1200 blender has a ton of modern features, a ridiculous amount of power, and is versatile enough to do the job of many kitchen appliances. The amount of performance here will allow you to prepare a huge variety of recipes with outstanding results. This model differs from the Ascent Series by not having on-board preset modes. Honestly it isn't a huge deal if you don't mind using your smartphone or tablet. If you're really set on having preset modes built directly into a blender, I'd recommend checking out the A2500 and A3500 models. One of them may be the perfect choice for you.
Another great thing to mention about the V1200 is the lengthy 10-year warranty. You may be surprised to hear that the Vitamix company will actually pay shipping both ways when handling approved repairs/issues. This should give you some peace of mind in the long run and is one of the best parts of owning a Vitamix blender. If you have problems that arise within the next decade, you'll know that you'll be taken care of and have a product that's going to work for you. Many other brands don't offer a warranty nearly as long as this, nor do they pay shipping for returns. Be aware that the renewed version comes with a 5-year warranty, which is still a crazy amount of time but is something to note.
Recommendation
The Vitamix V1200 is probably my newly recommended Vitamix, if you can snag an officially renewed model. In my opinion, you get the best price to performance ratio with it. It blends like a Vitamix while offering many advanced features found on the more expensive Ascent Series line. The performance is also the same between them. It's almost like you're getting an Ascent Series model and just missing the built-in presets. Yet, by using your smartphone or tablet you get access to tons of recipes and preset modes anyway! The Vitamix Perfect Blend app contains over 500 recipes and 17 blender preset modes that can be wirelessly sent to the machine.
Vitamix V1200 Offers
I'll include some helpful links below to the newest running offers. Amazon is currently offering an officially "Renewed" model, which is backed by their Amazon Renewed Guarantee. This means that the product is eligible for a replacement or refund within 90 days of receipt if it doesn't work as expected. Visit the links below for more information and product details. I'd recommend that you add the product into your shopping cart. This way you can see a total price with any tax, shipping, discounts, or fees.
Shop Vitamix V1200 (Renewed) Offer
"As an Amazon Associate I earn from qualifying purchases. This does not affect the integrity of our content."