I thought I'd update this Vitamix vs Ninja blender article for summer 2022, since so many new models have been released since the original post was made. Are you wondering which Vitamix blender to buy? Or which Ninja blender to buy? Maybe you're even wondering whether a Ninja blender is good enough, instead of buying a Vitamix. These are topics I've heard many times over the past few years and hopefully the content below will help you narrow down your choices.
I'm well aware that consumers have a difficult choice when choosing which blender brand or model to buy. I feel it's really important to be happy with the product you choose, especially with these appliances costing up to a few hundred dollars. I'll try to cover as many pros and cons for each model and then talk a bit more about a direct comparison between Vitamix and Ninja blenders. Let's start right away with the most modern Vitamix models and review some specific details.
Vitamix Ascent Series Blenders
Vitamix A2300

The Vitamix A2300 blender is the official entry point for their "Ascent Series" line. It contains a large 2.2-HP motor, which you would expect from a Vitamix, and it can easily handle challenging recipes with ease. It's incredibly versatile and all of the basic controls are very simple to use. The icing on the cake is the fact that the Ascent Series blenders include an incredible 10-year warranty with them. This is a big argument when choosing between a Vitamix vs Ninja blender.
Even with the basic controls the A2300 can also be quite advanced thanks to its Bluetooth functionality. With this wireless feature, you can pair the Vitamix app with your blender to run a ton of automated blending presets. If you're interested, you can read more about this specific model here: Vitamix A2300 review.
Vitamix A2500

Here we are at the next step up, but what's different on the Vitamix A2500. More importantly is the added cost worth it? Well, the specifications are actually extremely similar to the A2300. The main difference is the inclusion of 3 dedicated presets built right into the machine. These modes are for making hot soups, smoothies, and frozen desserts. You can extend this functionality with the app, just like the A2300, for more automated presets.
If you aren't familiar with these auto modes, they basically just run a specialized cycle that starts and stops the blender to prepare a specific type of recipe. The benefit of this is that you get consistent results every time you use them. The retail price is somewhere around $50 more, so you'll have to decide if that's worth it for the included 3 presets. It's somewhat of a successor to the popular 6300 model. Go ahead and read about this model here at: Vitamix A2500 review.
Vitamix A3300

We're climbing up the blender ladder and have landed at the Vitamix A3300. This one is a bit of an "odd duck", because to me it's the sister to the A2500. They're both priced similarly and offer the same performance, but the A3300 includes timer functionality instead of built in presets. You can still use the Vitamix app to run the automated cycles though.
Your decision then really comes down to whether you'd rather have a timer to use, over 3 specific modes for recipes you may not make. However, many people do use their Vitamix to blend smoothies so you'll have to figure out if a timer is more valuable to you personally. Look over the full article here to see if it's right for you: Vitamix A3300 review.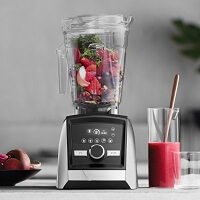 Vitamix A3500

To round off the Ascent Series, there's the incredibly fancy Vitamix A3500. This blender is yet again similar to the other Ascent models. The performance is the same, but it's actually kind of the ultimate model, because it includes 5 total presets and it has timer functionality. This model is the best of both worlds and offers a ton of power with a huge range of versatility. Watch this short video for more of an overview.
The timer is great for your own custom blends so you can run the machine and do other things in the kitchen. The 5 built-in presets are smoothies, frozen desserts, hot soups, dips & spreads, and self-cleaning. If you can manage to spend this amount and want all of the bells and whistles, it's one of the best Vitamix models. Click here for a complete overview of the blender: Vitamix A3500 review.
Vitamix Venturist V1200

I know I did just say that was it for the Ascent Series, but the Vitamix V1200 is a special "lite" version in the line, made for Costco. This model has the expected standard features: high performance motor, pulse button, and manual speed controls. But it also has self-detect technology to know what size container is attached at any given time. You can also pair the Vitamix app with the V1200 to run automated presets. There's even a simple timer you can use for for simple dishes.
Amazon sometimes offers this specific model as a "renewed" machine for a very decent price in my opinion. Even though it's renewed, it still has a long 5-year warranty and is quality tested. This V1200 deal is actually the current blender I recommend to most people that want a Vitamix because it's so versatile and has modern capabilities. If you can grab the Amazon offer I think you'd be quite pleased with this blender. Scroll down to the product links towards the end of the article to see more details. You can also read more about this model over here: Vitamix V1200 review.
Vitamix Explorian
Vitamix E310

Now onto another Vitamix line, this one is called the Vitamix E310. This version comes equipped with a 2.0-HP motor and smaller 48oz jar. Most Vitamix models utilize their 64oz container so it's a unique decision to pair the 48oz jar with the E310 model. The smaller container size does help concentrate its power, especially when preparing smaller recipes.
There's a pretty nice 5-year warranty included as well. Just in case anything were to happen to the blender you'd be covered for a good amount of time. The E310 is very similar to the classic 5200 model that's been around forever. The performance and controls are very close to each other. I'd say it's improved a bit thanks to the inclusion of a dedicated pulse button, which the 5200 model lacks. Wanna hear more? Then read the full article: Vitamix E310 review.
Vitamix E320
The next Explorian model is called the Vitamix E320. As you can imagine, it is similar to the E310 but does have a few notable improvements. For starters, the motor is more powerful, running at 2.2-HP in comparison. The included container is also a full size 64oz instead of the smaller 48oz size found on the E310. Another perk is that this E320 model comes with a longer 7-year warranty.
Aside from those points, most other aspects like the performance are very close. They both have the same manual controls and lack smart features. If you have to choose between them you'll need to figure out if you're fine with a 48oz jar or prefer the 64oz size. Otherwise it'll come down to price between the two.
Vitamix TurboBlend
Originally, years ago, one of the most affordable models offered by the Vitamix company was the TurboBlend. The first thing you'll notice when viewing this blender is the limited features. Most blenders have some sort of speed selection or automated modes, You won't find them on this model though. You only have access to either an on/off switch or a low/high-speed switch. This obviously limits the amount of control when blending your recipes. Some people may be fine with the lack of fine-tune controls but others will probably want something a bit more modern.
I should quickly mention that there's also a variation called the TurboBlend 3-speed which provides a low, medium, and high speed setting. That may work much better for some people looking at the two-speed model. In my opinion, spending a little more gets you a full-featured Vitamix though and I'd definitely recommend most people doing that. Click the following link for a full write-up: Vitamix TurboBlend review
Vitamix 5200

Here's the Vitamix blender that many people have always loved and is even still being made to this day. The Vitamix 5200 has a classic 2.0-HP motor inside and variable controls to dial in how much power you need for your recipes. This model is the choice many consumers have ended up buying when they've researched high-end blenders from Vitamix. It perfectly combines performance with versatility, though I'd say maybe the newest models have surpassed this reliable blender.
Overall it does still perform extremely well and handles smoothies, nut butters, and more without any trouble or hesitation. Be aware, the 5200 does not have a pulse button, which is a bit odd since it's a common feature. I found that it's easy enough to just flip the power switch on and off to emulate the pulse effect. You can read my full review about that model here: Vitamix 5200 review.
Vitamix 7500
The 7500 model is the next step above the classic 5200. With the 7500, you get a newer jar that has the same 64oz capacity, but is noticeably shorter in size. There's also a dedicated pulse button and a slightly more powerful motor.
I've always thought this blender performed really well but I wouldn't say its features are a wild improvement over the 5200. If you have low kitchen cabinets I'd probably recommend looking into getting the 7500 over the 5200. This is because the shorter jar will probably allow the blender to fit more easily underneath. Click the following link for a write-up: Vitamix 7500 review.
Vitamix 6000
– Discontinued
Next is the radically different 6000 model. This is marketed as being extremely convenient to use and a timesaver for simple meals. The biggest difference is that there are no speed controls, yes, you heard me correctly. There's only a timer dial that automatically handles the blending process for you. The idea is that you add ingredients into the blending jar and can walk away while it works by itself. The machine then automatically turns off when finished. This is great if you're looking for convenience specifically but I usually like to have more control over my blending process. It does handle everything it claims to pretty well though. It's a machine made for very certain people. A little update since the original post, this model has been discontinued by Vitamix. Click the following link for more info about this machine: Vitamix 6000 review
Vitamix 6300

Now here you have the pricey but very popular Vitamix 6300 model. At the time of release I considered it to be one of the best Vitamix blenders available. The standout difference was the 3 preset modes which included settings to prepare hot soups, frozen desserts, and smoothies. These automatic options can really help give you consistent blending results since they let the blender do all the hard work. It's somewhat akin to the 6000 model's "auto" mode, yet you still get full manual control over the blender speeds. The frozen desserts I tried were always delicious and surprisingly easy to prepare.
This blender has somewhat been replaced by the newer, modern models, found in the Ascent Series. I'd suggest you turn to those nowadays since they have so many modern conveniences. I often used to recommend the Vitamix 6300 model to people during Vitamix vs Ninja conversations. Click the following link to read a more in-depth analysis: Vitamix 6300 review
Vitamix 750

If you're a fan of the previous model but want more pre-programmed modes, you should definitely look into getting the Vitamix 750 blender. Firstly, it uses the low-profile jar which has a few benefits over the standard sized jar. Namely, it's more likely to fit underneath most kitchen cabinets as I previously mentioned.
It has a huge motor, manual controls, large container, and more. On top of all that, you also get two additional presets: Purees and Self-Cleaning. The exterior comes in brushed stainless steel finishes as well which looks a bit more high-end. Click the following link to read a full write-up on this blender for a more in-depth analysis: Vitamix 750 review
Vitamix 780
– Discontinued
Finally on the Vitamix side is one of the most feature-rich models, the Vitamix 780 blender. You'll immediately notice the futuristic control panel that lights up and is touch sensitive. This differs greatly compared to older models that have physical dials and switches. Everyone has a preference about this and I know some people prefer having real buttons to interact with. It could be why this model is also discontinued now.
The five preset modes are: self-cleaning, puree, soup, frozen desserts, and smoothies. This blender does utilize the shorter container as well to make this a very solid choice at the top of the Vitamix line. Click the following link to read a full write-up on this blender for a more in-depth analysis: Vitamix 780 review
Relabeled Vitamix Models
Originally I wasn't going to have every numbered blender variation in this article, but I know the model information can be confusing. To help make everything clearer, I thought I'd add them into this Vitamix vs Ninja discussion anyway. Honestly, the numbering system isn't how you'd expect so I'll try to put them in an order that makes some sort of sense. At least you can see where each model stands in comparison to each other then.
Vitamix 5300
Based on the number you might think this is an improved 5200, but it's actually closer to the 7500 model. You have the expected manual speed dial and the dedicated pulse switch. The addition of a low-profile blender jar is a huge bonus. I've seen a few different people agree that this jar requires less tamping, is easier to clean, and is slightly quieter.
The jar uses 4″ blades instead of 3″ ones which spin at a lower RPM. This is why it's a bit quieter. It isn't silent of course because of the giant motor inside but any improvement helps. Vitamix 5300 review
Vitamix Professional Series 500

This blender is basically just a rebadged 6300 with a different cookbook included. The Professional Series 500 has a control panel with 10 speed selections and the same 3 automated modes for preparing smoothies, frozen desserts, and hot soups. It's great for anyone that wants a bit more convenience, while still having complete control thanks to the manual settings.
If you order a refurb unit that has these features you'll either get this model or the 6300. Cookbook wise I wouldn't say one is better than the other. Click the following link to read a full write-up about this model: Vitamix 500 review
Vitamix 6500
– Discontinued
The 6500 is a mixture of the 6300 and 750 models in one. The controls are a copy of the 6300, so there are only 3 automatic presets to choose from. The motor is rated at 2.2-HP and 11.5 Amps, providing more performance compared to the 6300. This allows it to handle tougher ingredients a little easier. It's another newer blender that uses the low-profile container, which is good news for people with low cabinets.
Unfortunately, there isn't really a cookbook included, just a quick start guide. There are many different websites offering recipes nowadays though so I don't think it's that big of a deal. Much like the 6300, I recommend this model as well when going over all the Vitamix vs Ninja blenders. Especially because of the low-profile jar. Click the following link to read an in-depth analysis: Vitamix 6500 review
Ninja Blender Models
The Ninja blender brand is a cheaper alternative that has been gaining popularity over the years. You can find the Ninja models in most retail stores now including Walmart and other major national chains. In the past, there were four main blender models to choose from: the Ninja Professional Blender, Ninja Mega Kitchen System, Ninja Ultima Blender, and the Ninja Ultima Kitchen System. There are and were a lot of model variations for Ninja blenders. The sections below cover the NJ600, BL770, BL800, and the BL820 models.
The Ninja brand has utilized a very unique blade design for their full-size blenders, an important point in this Ninja vs Vitamix overview. Not only are there typically three blades located at the bottom of the blender jar, but some models also have three more blades attached to a center rod halfway up the container. This allows, in theory, for a more thorough blending process to occur. Plus because of this feature, you won't need to use a tamper as often as you would with a Vitamix.
Ninja Professional Blender

The standard Ninja Professional Blender was their most popular model among consumers. It comes with a giant 72oz container and is powered by a beefy 1,000-watt motor. Unfortunately there are only 3 manual speed controls available. This doesn't allow you to have much fine control over your blends, but the speeds are at least noticeably different from each other. Like, with 10 speeds you may not be able to tell a big difference between speed 5 and 6 for example.
Another thing to note is that fitting these blenders under cabinets is pretty unlikely. This means you should probably be prepared to remove the blender jar and set it next to the base of the machine. It isn't a huge annoyance but something to definitely make you aware of. Read more about this Ninja blender here: Ninja Professional review.
Ninja Mega Kitchen System

The next jump up is to the comprehensive Mega Kitchen System. This upgrade includes a more powerful motor rated at 1,500 watts capable of 2-HP peak performance. There's also 4 speeds instead of only 3, and there's a dough blade included. The biggest difference is the inclusion of multiple containers though. Two 16-ounce blender cups, a 64-ounce blender bowl, and the standard 72-ounce Ninja container.
There are a lot of consumers that are thrifty, that's a nice way to call it. On paper, the blenders seem evenly matched. It's always about the power comparisons with some people. You'll probably really enjoy using the various blender containers of the Mega Kitchen System, especially the 16-ounce cups during parties. Make some frozen cocktails with them or something fun like that. Only having 4 speeds might be a minor bit of a downer, but they work well enough for most people that don't need precise speed flexibility. This model is likely the one I'd recommend to someone looking to buy a Ninja blender honestly. You can read a thorough article about this blender here: Ninja Mega Kitchen System review
Ninja Ultima Blender
Next is the Ninja Ultima Blender with a 1,500 watt 2.5-HP motor. There's both a standard model and a Blender Plus version. The "Plus" model has a 10-speed variable dial while the standard one only has 3 speeds to choose from. The "Plus" also comes with two 16oz blender jars which might be important if you're looking to make smoothies or single frozen drinks. If you're looking at this blender line, I have to recommend going for the "Plus" model; the addition of the 16oz cups alone make it a better buy.
Not to mention the 10-speed variable dial you can manually control. The final option is the Ninja Ultima Kitchen System which has the same 10-speed dial and includes the jars and bowls that I mentioned earlier with the "Mega System" model. Click the following article for a full write-up: Ninja Ultima review
Warranties
Most of the Vitamix models include a 7-year warranty, though there are exceptions, for example with the Ascent Series offering a 10-year warranty. The Vitamix company will also pay shipping both ways when dealing with authorized repairs. The Ninja models typically only have a 1-year "limited" warranty, but extended ones are available for purchase and I'd recommend you consider doing that. Unfortunately when a Ninja blender breaks they require you to send the entire machine in, not just the broken part and you must also pay the shipping and handling. If the machine breaks after the 1-year warranty you're even more out of luck unless you bought an extended warranty.
So you do get some peace of mind knowing you're covered for a long time with Vitamix blenders if anything were to go wrong at least. In terms of warranty between Ninja vs Vitamix, obviously Vitamix gets bonus points here on the sheer length of time that they're covered and the fact that Vitamix pays two-way shipping for valid repairs.
Vitamix vs Ninja
The Ninja machines are produced in China while the Vitamix machines are actually assembled in America. Of course, I know that's important for some people in this type of discussion. Likewise, I know some consumers could care less, but it's still something to note. The Vitamix machines themselves definitely do have a more solid, durable, feel to them. For build quality and reliability, the win goes to Vitamix.
The Ninja blenders are good at making large batches in their 72-ounce containers but they aren't as good when you're trying to blend a single smoothie in the 72-ounce jar. There's just too much empty space involved. It's perfect for families that all want the same thing, but otherwise, you may have trouble with small batches. They do offer a 16-ounce blender jar specifically for that purpose though. If you have that accessory, it works infinitely better for single serve recipes.
Many people find that the Vitamix machines perform better in most blender tasks. For instance, smoothies are nice and smooth in a Vitamix. You don't have any small bits of fruit or ice in your drinks. The Ninja blender smoothies on the other hand still may have small bits of vegetables or fruit. I don't think many people mind that, but sometimes you want a drink to be perfectly smooth.
Helpful Tips
Both of the brands can be a little bit of a pain to clean depending on what you're preparing. They're both rather loud on their highest setting as well. Noise is somewhat to be expected since the blenders have such large motors inside. I'd like to share a tip with you for making it easier to clean your blender, it doesn't matter what brand, it typically works for all of them. After the recipe is finished, fill the jar halfway with water and add a very tiny drop of dish soap. Now turn your blender on for 30 seconds or so. It's a quick way to remove some messes. While I'm at it, I'd like to show you a quick video of the Ninja blender blades that better explains their unique design.
A few other important aspects that you should consider for all this Vitamix vs Ninja talk. You can't drop ingredients into a Ninja blender lid while you're making a recipe. The customer is required to remove the lid completely to add more ingredients. This is different than the Vitamix which has a center area on the lid used for dropping in extra ingredients without stopping your blender. A minor annoyance for some and I'm sure it isn't a huge deal for some people. You also can't make soups as well in the Ninja blenders because their lids don't have any ventilation slits like on the Vitamix machines. This causes the steam from soups to "sweat" out from the lid.
Vitamix vs Ninja Conclusion
It may seem like I might be a little harsh on the Ninja blenders, but really the things I've listed are minor annoyances more than major drawbacks. For this Vitamix vs Ninja comparison, I'll say that the Ninja brand works incredibly well for large batches and it's perfect for families or parties with friends. If you get the 16-oz containers it's also great for single serve recipes and I absolutely recommend them. The machines do handle a lot of recipes pretty exceptionally. Overall, the Ninja blenders do perform better than many cheaper competing brands so aren't "bad" by any means.
Now it comes down to the price and what you get for the products, which might be the most important part of this Vitamix vs Ninja decision. It's true the Ninja blenders work better than expected, but the Vitamix blenders do perform better with thicker recipes and are a bit more consistent. All of these blenders have multiple uses though. They both can do the job of a mixer or a juicer as well. However, the Ninja blenders aren't capable of making hot soups directly in them. You have to ask yourself, how often will you be using this machine? If you want to make smoothies, fresh juice, and big batches of things you'll be perfectly happy with a Ninja blender. They offer a lot of power for a fraction of the cost of a Vitamix.
Additional Thoughts
When buying a Vitamix you do get a product that has a long 5 to 10 year warranty. Their blenders are assembled in America which adds to the overall total cost. You can usually find some of the listed models for more affordable prices if you search around online. I'll put some links below for you to some of the newest deals. If you've only ever had cheap blenders in your house before, the Ninja will still be a nice upgrade at a good price. The shorter warranty does become a concern but at the same time, they're also a chunk cheaper.
Bottom line though, if you want the best performing product out of the two brands, something that will last and money is no object, you'll want to look into the Vitamix models. It typically performs better and is a brand that has been around for a long time for a reason, people love them. Deciding whether to get a Vitamix vs Ninja will come down to price and the frequency of usage. Ask yourself what you're looking for and which aspects are important to you.
Which Vitamix or Ninja Blender?
In addition to the certified renewed Vitamix machines, there are also great offers on brand new blenders for both brands. The prices can change very frequently so I'll include a couple of direct Amazon links to those deals below. I'd recommend adding one to your shopping cart to see a total price.
Best Vitamix Offers
Vitamix Explorian Series Offer
Vitamix V1200 (Renewed) Offer – Recommended!
Best Ninja Blender Offers
Ninja Professional BL610 Offer
Nutri Ninja Mega Kitchen System BL770 Offer – Recommended!
Nutri Ninja Blender Duo BL642 Offer
"As an Amazon Associate I earn from qualifying purchases. This does not affect the integrity of our content."