The Vitamix Ascent A3500 blender is at the high-end of the new Vitamix model line and retails for $620. It combines the automated preset modes from the A2500, and the customizable timer from the A3300, into one versatile machine. There's a ton of functionality inside to handle a wide range of blending tasks.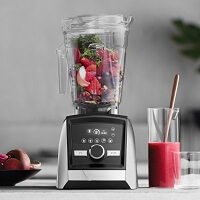 It's powered by a 2.2-peak horsepower motor, the same you'll find in the other Ascent Series models. This will provide enough power to mix batters and crush tough ingredients. There's also a really lengthy 10-year warranty included. You'll have coverage for a very long time, in the event you have any issues. I'll start by reviewing the various features since they're really what set this model apart from the rest.
Standard Controls
If you want to have maximum control over your blend, you'll be using the variable speed dial to manually adjust the speed. This dial lets you tune in to the right amount of power depending on what you're preparing.
A dough batter will require a higher setting, while simply mixing ingredients together could be done on low. Lightly chopping vegetables can be accomplished by using just the dedicated pulse button.
Automated Presets
There are a total of five preset modes to choose from on the A3500: Smoothies, Hot Soups, Dips & Spreads, Frozen Desserts, and Self-Cleaning. These are really convenient features to have, since they allow the blender to control the entire blending process.
The presets automatically adjusts settings and speeds. So, selecting the "Smoothie" option will give you the same results every single time you use it. They definitely remove some of the guesswork when making recipes.
You can also use these presets while doing other things in your kitchen. Maybe you're making the rest of your meal and want to have a hot soup from your blender. Just add your ingredients, select the mode, and walk away. The machine will turn off automatically once it's complete. Watch the video below to see the blender in action.
Customizable Timer
Another great feature for added convenience is the programmable timer. This is somewhat similar to the preset modes; however, with this, you select a custom amount of time for the blender to run.
Perhaps you only want the machine to run for 45 seconds. You can select whatever time you want, and the blender will countdown until it hits zero. It can give you a little more freedom over the automated presets.
Motor
There's a massive 2.2-horsepower motor powering everything. This is what gives the blender the ability to crush entire fruits and vegetables into a smooth consistency. You don't have to deal with chunks of ice or big pieces of ingredients in your smoothies. There's a ton of performance here to thoroughly blend everything together. Some previous models only had a 2.0-horsepower rating, so the A3500 is a bit of an improvement on that front.
You will have to deal with some heat being produced when running the blender for extended periods of time. This heat is transferred from the motor directly into the blender container, and it's what allows the blender to prepare hot soups. The lid of the jar is actually vented which lets steam escape for this very reason. It's a really nice feature since many cheaper blenders don't have this capability. Usually, they'll require you to heat the mixture up on the stove separately and then blend it.
Design
I really like the design of the Vitamix A3500, along with the other models in this series. Everything about it just gives the impression of it being a high-quality product. The digital control panel is one of the best new additions in my opinion. Everything is lit up and clearly labeled with images corresponding to each function. All of this should make it easy and more convenient to use.
It's sort of peculiar though since some of the older models, such as the Vitamix 750, have a comparable retail price but lack this digital interface and a number of features. I guess it depends on whether you prefer physical buttons and switches or like the idea of everything being on a touchscreen. That'll come down to personal preference of course.
Accessories
The main accessory included is the 64oz blender container. This is actually a low-profile jar that is a few inches shorter than the legacy containers from Vitamix. Some of the previous machines stood around 20 1/2 inches, which made it difficult to fit the blender underneath cabinets. This new container gives an overall height of about 17 inches according to the company. You can still measure just to be sure you won't have any clearance issues. The jar lid also doubles as a 1/2oz and 1oz measuring cup.
There's a low-profile tamper included which you'll use to help push thick recipes down towards the blades. As an example, if you're making a sorbet you may have to push the sides down with the tamper to ensure everything gets incorporated uniformly. I'm sure most people want to test out the features of the blender right away once it arrives. You'll receive a cookbook with many different recipes inside the box as well.
Smart-Detect
The blender has something called "Smart-Detect" technology. This gives the machine the ability to automatically detect which container is being used. It will then adjust settings or do magic to custom fit each container. You can purchase additional blender jars separately. I'm not sure how many there will be, but at the time of this writing, there are two you can choose from: Blending Bowl Starter Kit and Blending Cup Starter Kit.
Summary
2.2 horsepower @12 Amps
5 automated presets: Smoothies, Hot Soups, Dips, Frozen Desserts, Self-Cleaning
Variable speed dial + pulse button
64oz low-profile container – BPA free
Smart-Detect Technology
Includes low-profile tamper
Ascent Series cookbook
Dimensions: 11 x 8 x 17 in
Weight: 14.92 lbs
10-year warranty
Conclusion
The Vitamix A3500 Ascent blender is part of a new generation of models from the company. It looks incredibly modern and has a wide range of features onboard. The 5 automatic preset modes and the customizable timer really make everything more convenient to use. There's also plenty of power here to handle the most difficult blending tasks.
I should mention that the A3500 blender comes with a crazy long 10-year warranty, yes, that's an entire decade worth of coverage. If a problem arises and it isn't due to human error, the Vitamix company will fix the machine. They'll even pay shipping both ways when handling repairs. Having such a long warranty should give you some peace of mind; knowing you'll have a working blender for many years. I think the warranty definitely adds extra value and makes the premium price more justified.
You'll have to decide if the features and long warranty are worth the cost. Everyone will have different requirements they want in a blender. If you want a powerful blender with a ton of features, I'd definitely recommend the A3500. You should look into the A2300 though if you don't care about any of the preset modes or timer. Happy blending!
Vitamix A3500 Current Offers
Click the following links to view the current prices. I know they can fluctuate randomly on Amazon due to a number of reasons. Make sure to add one to your cart to view a total cost! You don't wanna leave the site without viewing this deal!
Buy Vitamix A3500 Ascent Series Offers
"As an Amazon Associate I earn from qualifying purchases. This does not influence our content and helps keep the site running."