Here we'll take a look at all of the technical information and details to determine the best Vitamix for juicing. Using a blender as a juicer has been gaining in popularity with consumers over the past few years. It makes sense, since a juicer is a single function machine; whereas a high-end blender can be used for multiple functions. People seem to love having an all-in-one appliance to save space and overall cost of buying additional machines.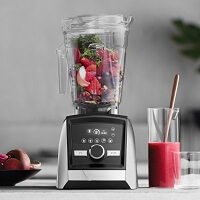 Since originally posting this article years ago, there have been several new releases in the blender line to mention. I'll be focusing on three older models along with some new additions from the Vitamix company: the 5200, 5300, and the 6300 for the old models. Then I'll be updating this article to cover the E310, Ascent Series, and the new Venturist V1200. Is the most expensive blender the best choice? Let's read on to find out.
The Models Left Out
There are some choices I've decided to leave out, since they lack certain features or they're just variations of the main models. It's obvious with most Vitamix consumers that the 5200 model was the most frequently purchased product the company made. It comes in at an affordable price compared to some of the other high-end versions but lacks many convenient features.
Best Vitamix for Juicing
It's obviously well-known to most longtime Vitamix consumers that the 5200 model was the most popular product the company made. It comes in at an affordable price, compared to some of the other high-end versions, but lacks many convenient features. I also discovered that the tall jar is more of a hassle to clean compared to the newer models that use the shorter container. The noise level is also a bit louder since it uses smaller blades that spin at a higher RPM. Having said that, it does juice fresh fruits and vegetables really well. I didn't necessarily have any problems with it but the negatives make the other blenders seem like better options.
At first glance, this model has many things in common with the 5200 version. However, there are several improvements being offered, including a more powerful 2.2-HP motor versus a 2.0-HP motor found in the 5200. This gives you more power to pulverize ingredients into a smoother consistency. The shape and performance of this machine alone make it a smarter buy over the 5200. In my opinion, it's a marginal increase in cost for some really convenient features. I also thought it performed better than the 5200 with making juices. Everything seems a tad bit creamier and smoother due to the extra power.
The container that comes included is also the shorter variety allowing it to fit more easily under cabinets. This blender jar and larger blender blades make cleanup easier and the noise of the machine a bit quieter. Aside from those differences it has the exact same variable 10-speed manual dial, a pulse switch, and on/off switch. No thrills here but a definite improvement over the previous model. The Vitamix 7500 is also a very popular variation of this model or vice versa.
The Vitamix 6300 used to be the most expensive and feature-filled model the company made. Honestly, I would say this blender performs exactly the same as the 7500. In terms of juicing at least. If you're looking to just make fresh juices, and use the machine solely as a Vitamix juicer, then it is a bit of overkill in a way. It does have some nice features including presets for soups, frozen desserts, and smoothies. This at least allows you to walk away while it works. I don't think the price increase is worth it, unless you can either find a great deal, or plan on using the additional features frequently.
Newer Models
This E310 model provides a ton of performance while offering basic functionality. It's reliable and built to handle a wide range of tasks. It seems to be another super popular choice among consumers based on sales and reviews. Included is a stubby container designed to pull ingredients down into the blades. There's a lot to like if you're searching for a blender with more basic features. This would perform similarly to the 5300 and 7500 models due to the container design.
I'll specifically be talking about the A2500 model as it's a step above the lowest option and adds 3 convenient preset modes. These preset modes will allow the machine to take over and do all of the work. When selecting them they will run a predetermined blending cycle which will give you consistent results. It removes some hassle and ensures you aren't blending anything for different lengths of time. I like to think of it as being an improved 6300 for the modern-era. Touch sensitive buttons, modern design, and smart functionality make it a future-proof choice.
At the moment, this is the latest and greatest blender from Vitamix. It's a smart-capable blender that can detect which blender container is currently in use. This allows the machine to automatically adjust itself to target the performance for each specific jar. You're able to pair your phone via Bluetooth to run preset modes and more. It's extremely modern and is a really good choice for people that like upgradability. The company has stated that it's possible to add new modes and functionality just by updating the app on your smartphone. This model also includes a very powerful 2.2 horsepower motor to handle any sort of ingredients thrown at it.
Summary
I'll cut to the chase, if you're looking for something more affordable and don't care about additional features I'd say that the Vitamix 7500, 5300, and E310 are probably the best for juicing. They're the easiest to clean, slightly quieter than some older models, and it also makes fresh juices that are incredibly smooth. If you do need modern functionality with more convenient features then consider the Vitamix A2500 instead. If you buy any of these blenders to use for juicing, it would be a good idea to buy their filtration bag, or a similar bag. This allows you to remove any leftover pulp from the juice, if you aren't into having that sort of thing in your drink.
I wrote a whole article on the pros and cons of leaving the pulp in or out, you can read about it here: The Benefits of Juicing. So the bottom line is that those are the best performing models for the price you pay in my opinion. The other models still work great, they just have some drawbacks you need to consider before making your purchasing decision for a Vitamix juicer.
Vitamix Juicer Deals & Offers
Here are a few product links where you can view more information and narrow down your decision. Sometimes prices change rather often so I would suggest that add the blender to your shopping cart to see a complete price including any tax or discounts applied.
"As an Amazon Associate I earn from qualifying purchases. This does not affect the integrity of our content."